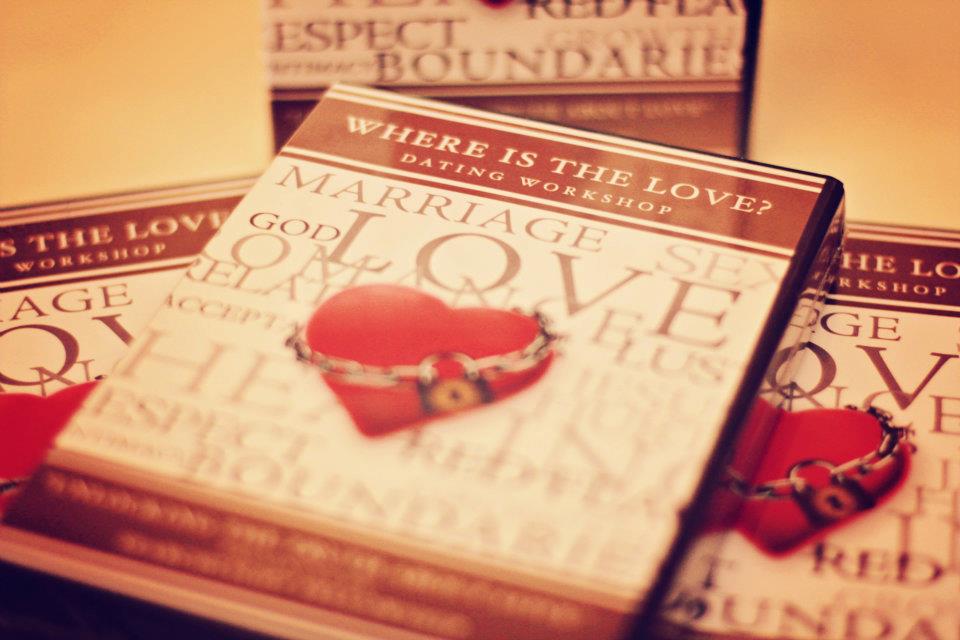 Watch a preview of "Where is the Love?"
Questions about The Dating Workshop DVDs?
Experience Our Dating Class Anywhere in the World with our Dating Workshop DVDs
Our current dating workshops cater to those in the San Francisco, San Jose and East Bay area, but you can experience the life-changing Dating Workshop anywhere in the world with our DVD series!  The series is perfectly suited for small groups, young adult classes, women's and men's bible studies and individuals. The DVD series teaches people how to date, based on the Bible.
Some of the topics the DVDs will cover:
Why dating?
When should people date?
What kind of people should we date?
How do you discern between personal tastes and real character flaws?
What about physical/sexual boundaries?
Searchlight Pastor Nancy Berwid's Popular Dating Workshop Now Available on DVD
Pastor Nancy Berwid's Dating Workshop participants learn more about themselves to prepare themselves for meaningful relationships. After attending this popular dating workshop, participants take home a better self awareness and realize success!
Is there anything greater than finding someone to spend your life with? We all dream of having that special person in our lives, but they are not always easy to find. Commonly, we go through disastrous relationships where we are hurt or hurt others. We have the feeling of being in love, but it turns into a painful experience. Does this sound like some of your past experiences?
This Christian dating DVD series is based on the belief that it is not automatic—it takes preparation! You need to learn, grow and discover things you can do that are within your control to achieve love, without guessing whether it will work.
Preparing for love is challenging, but worth it! The Dating Workshop DVDs, based on the Bible, are full of everything you need to have a successful relationship.
Pastor Nancy Berwid looks at:
Ways you can prepare yourself for dating
Bad advice and information which misguides our relationships
The Bible – If God made us, we should work from His principles!
Becoming completely united with that person, heart, mind, body and soul
Prepare Yourself for Marriage with our Christian Dating DVDs
Ever dream about having an amazing marriage? "I do for life" is an amazing idea, if it can be true. Most people hope for a lifetime marriage, but successful marriages are few and far between, and most people don't even know what it takes to have one.
The Dating Workshop's dating DVDS focus on how responsible dating can prepare your heart for marriage by helping you to get to the place where you can choose a person who is right for you, as well as help you in becoming a person who is right for another. Pastor Nancy Berwid explains that dating helps you grow your relationship, coming to the place where you have the communications skills necessary for marriage!
Perhaps you have a broken past, having taken relationship advice from TV, friends, magazines or a broken household. Many of our students have dated young and did not have a supportive family structure. Our dating workshop DVD showed them how they could change their perspective toward love and marriage, and come out successful even through their past trials.
The Dating Workshop DVD Course Objectives
Through watching our bible dating DVDs, we hope you will learn how to choose the right person to marry by first having a successful dating relationship with them. Our dating DVDs' objective is to guide you through the process of learning:
Safe and "unsafe" people
Negotiable and non-negotiable qualities
Red flags
How Faith affects your relationship
Preferences, types, attractiveness
Relationship skills
How to protect your heart
Pacing in a relationship
Differences between men and women
Sex
This dating class DVD is worth putting the time and effort into, because it is worth it to learn more about yourself, to grow and to practice lifelong skills. God wants us to be satisfied; God wants to meet all of our needs and He wants to provide you with a soul mate to last the rest of your life. What are you waiting for?